Disaster Supply Kit: Important Documents and Money
Disaster supply kits need to be unique for each individual according to your own needs, abilities, and wants. "Be ready" with copies of important documents and cash in small bills in your emergency kits for you and your family to last at least 5 days.
Put COPIES of important documents in disaster supply kits
Put cash in small bills in disaster supply kits, enough to get you through a MINIMUM of five days of food, water, fuel, lodging, and other emergency expenses
Update copies of documents every six months or as they change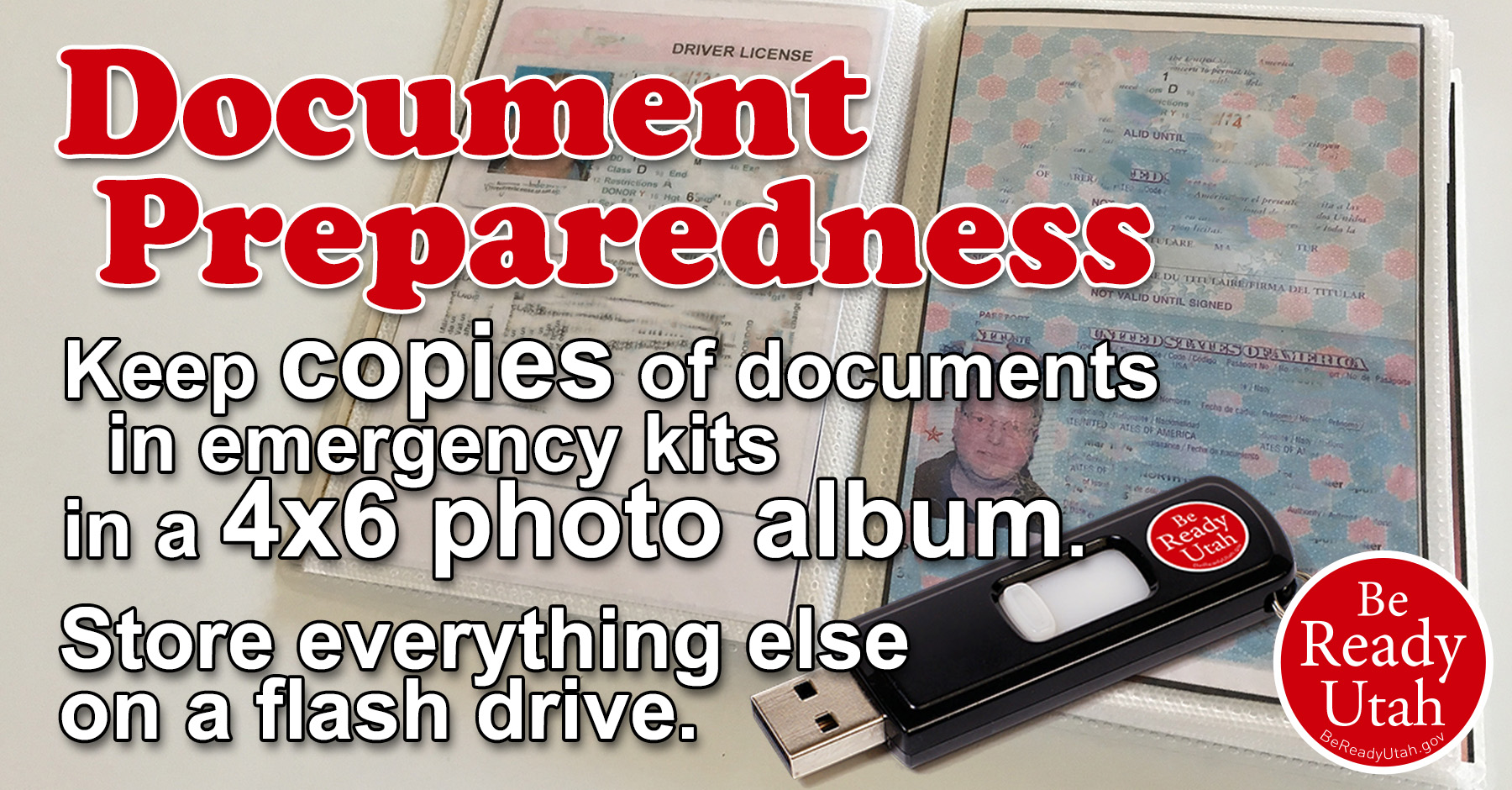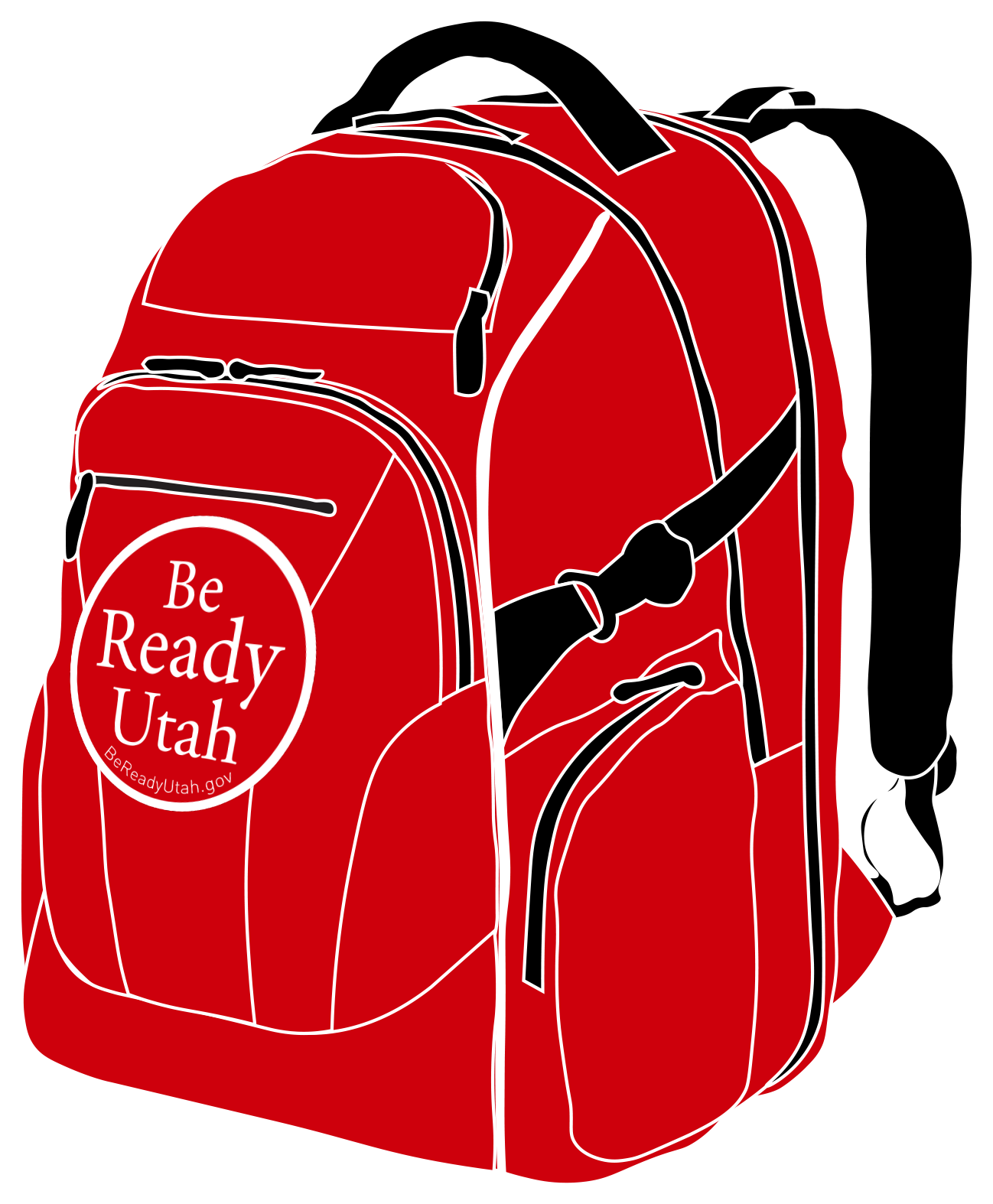 It is important to have printed copies of documents for identification and reference during an emergency and to help in post-emergency recovery. Store your original important documents in a waterproof and fire proof safe to protect from house fire, flood, water leak, or putting out a house fire. In addition to safeguarding the originals, you should have copies of those documents in your disaster supply kit. Only store COPIES of important documents in your emergency kit—NOT the originals.
These important document copies can be reduced in size to fit in a small, 4x6 inch photo album that easily fits in your Disaster Supply Kit. They can also be included digitally on an encrypted flash drive that includes any additional important documentation and pictures that you don't need printed. Store all of your documents and flash drives in waterproof bags. Double bagging is a good option for added protection.
Whether you keep them as printed copies or digital copies is your decision, but here are some recommendations for printed copies:
Household or Family Emergency Plan
A printed copy of your emergency plan is important to include in everyone's disaster supply kits so that it can be easily referenced if some details are forgotten. It is important to make a plan as a family and to have that plan written down. Include sheltering at home plans and evacuation plans. You'll want to include addresses of family emergency meeting places for reunification as well as emergency contact information for communicating with family members, work, schools, and emergency responders. Include copies of local maps showing multiple evacuation routes, family meeting locations, and other important places.
Have a printed checklist of kit items, unique to each person's needs and abilities, stored inside each disaster supply kit.
Include a printed prioritized evacuation grab list attached to the outside of your kit or at least near where your kits are stored for quick access and reference.
Identification
Hopefully you are able to grab your purse or wallet that has your driver license and other identification, but if not, it is a good idea to keep copies of those in the front of your printed document album. Include copies of driver license, passport, military ID, student ID, work ID, and any other form of identification.
Keep copies of important names, addresses, phone numbers, and emails in your emergency kits in case of emergency. Keep contact info in emergency kits for: family members, work, school, evacuation sites, out of state contact with phone, address, and email. Also include doctor, dentist, fire/police/ambulance (emergency and non-emergency), veterinarian, pharmacist, and gas/electric/water utilities.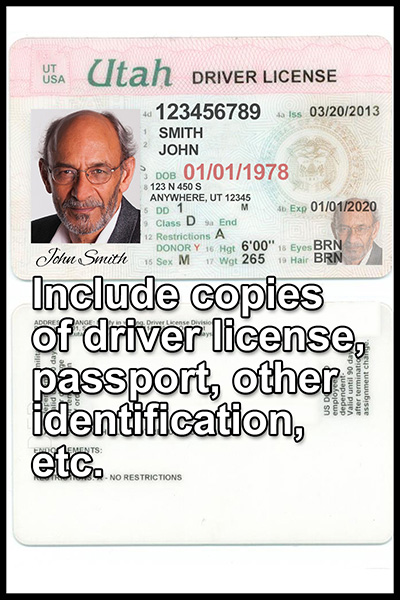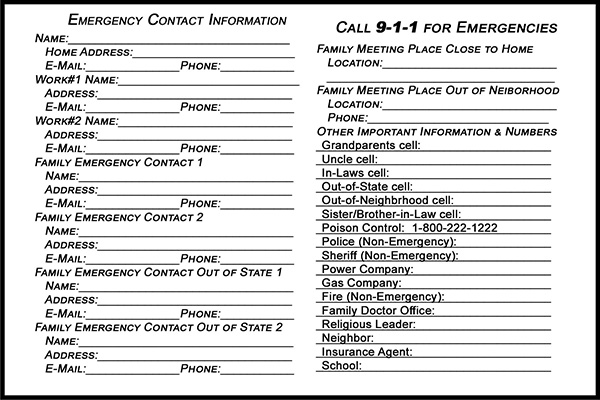 Insurance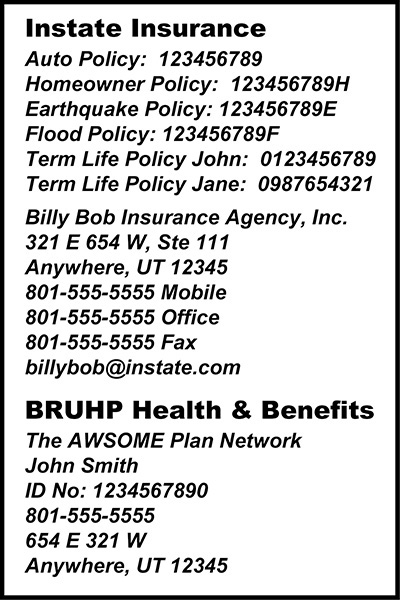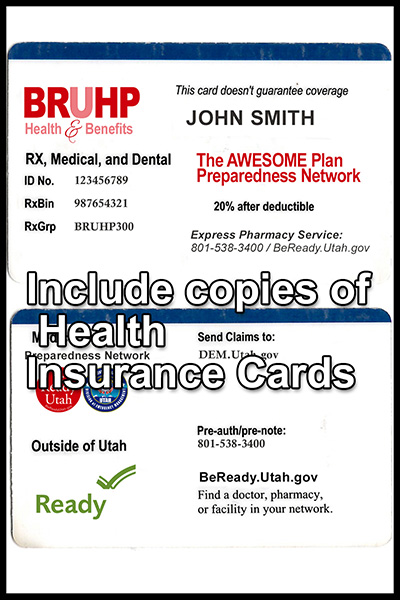 Don't forget printed copies of contact information for medical, home, life, and auto insurance. You may also have earthquake, flood, or other insurance. This printed information is just policy numbers and contact information. Full policies and property inventories should be digital copies on your flash drive.
More Identification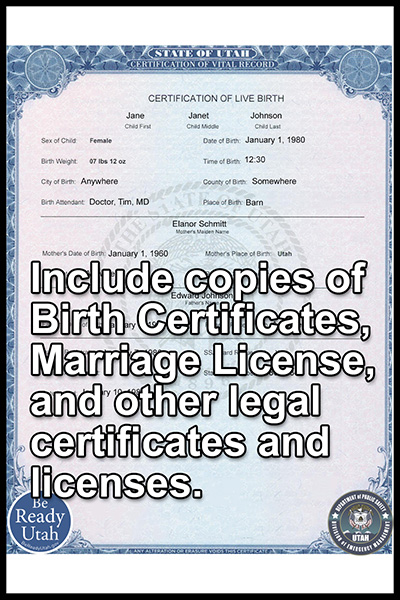 Include printed copies of other certificates and records that can further validate your identity. This could include copies of birth certificate, marriage license, immigration records, military records, etc.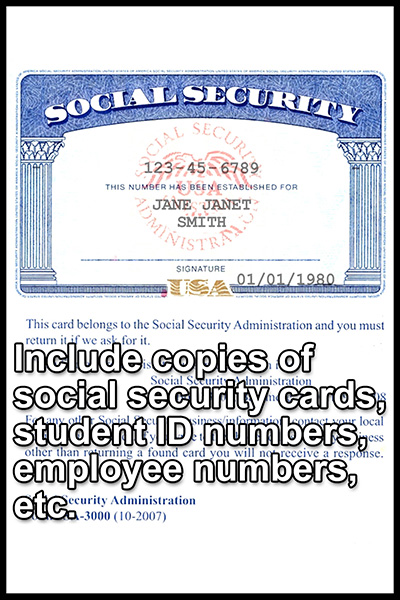 You may also want to include copies of social security cards, student numbers, employee numbers, and other important identification numbers.
Family Photos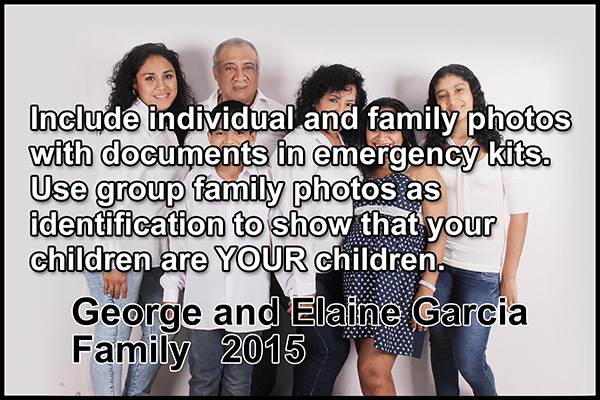 Include individual and family photos with documents in emergency kits. Use group family photos as identification to show that your children are YOUR children.
Have copies of family members' personal identifying characteristics stored with important documents in emergency kits. This could include copies of fingerprints as well as current photographs. If a family member gets lost, an individual photo can be used to ask, "Has anyone seen this person?" Update individual and family photos in emergency kits at least yearly, especially for young children.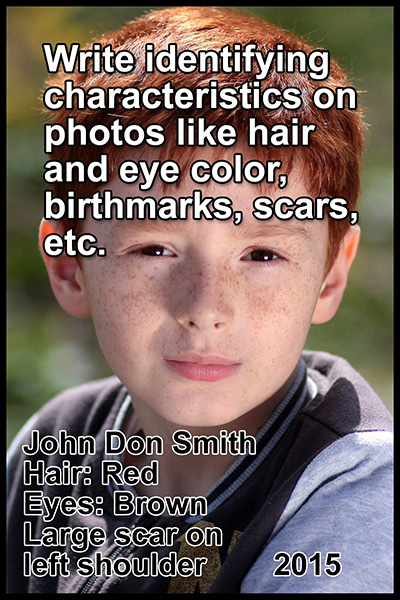 Photos help in identification. Include individual photos with your documents in emergency kits. Write identifying characteristics on photos like hair and eye color, birthmarks, scars, etc. Photos can also help strengthen emotional health in a difficult time if you are separated from loved ones.
Vehicles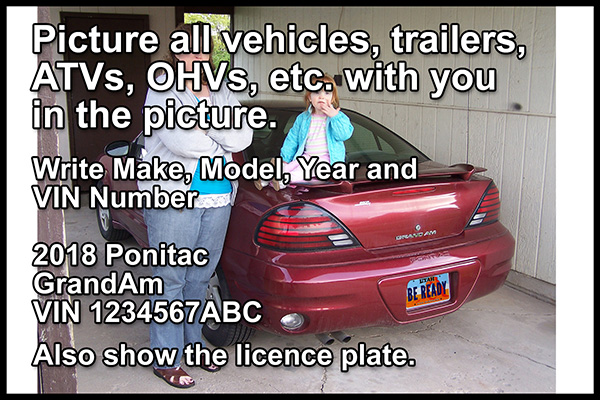 Include in your disaster supply kit a photo of you with your car, RV, boat, OHV, trailer, and other vehicles with license plates clearly visible to ID the vehicle as yours. Write the make, model, year and VIN on the photo.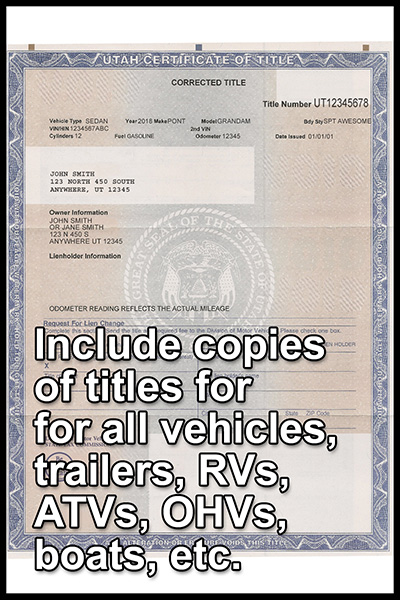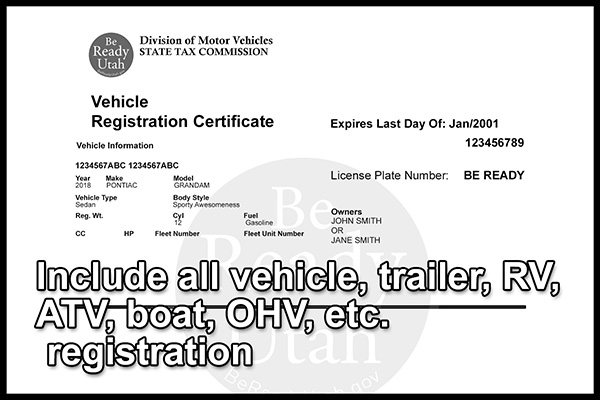 You may also want to include copies of vehicle titles, registration, and insurance.
Home or Apartment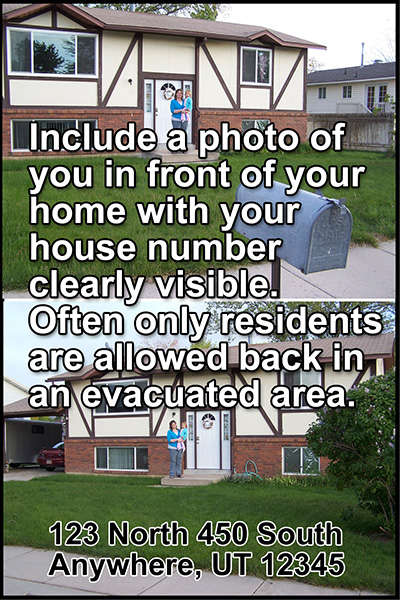 Include in your emergency kit a photo of you in front of your home with your house number clearly visible. Often only residents are allowed back in an evacuated area. It's one more layer of proof you live there.
Licenses and Certificates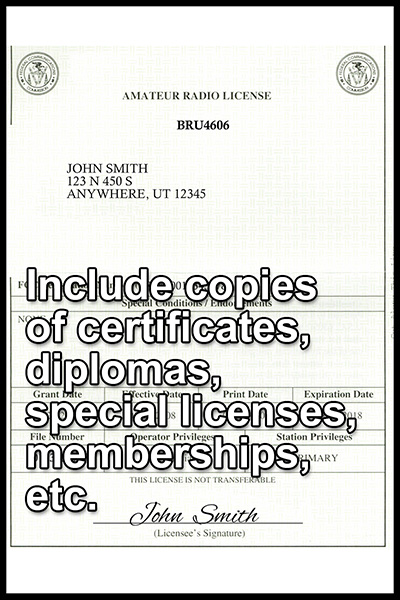 Depending on your current life situation, you may want to have copies of some licenses, organization memberships, certificates, school diplomas, etc.
Religious Information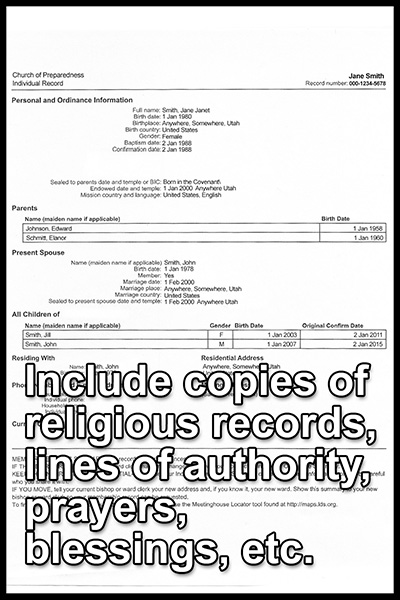 If you are a religious person, you may want to have printed copies of any personal prayers, blessings, membership records, certificates or lines of authority, or any scriptures that have significant meaning to you.
Cash
You know you need to have some cash in your disaster supply kit, but how much? We recommend you have a minimum of five days worth of cash in small bills for fuel, food, lodging, etc.
Let's break that down:
Two to three tanks of gas: approximately ..........................  $200
Four nights at an average motel: approximately ...............  $700
Five days of food and water: approximately ......................  $200
Other expenses? Vehicle repairs? Additional supplies?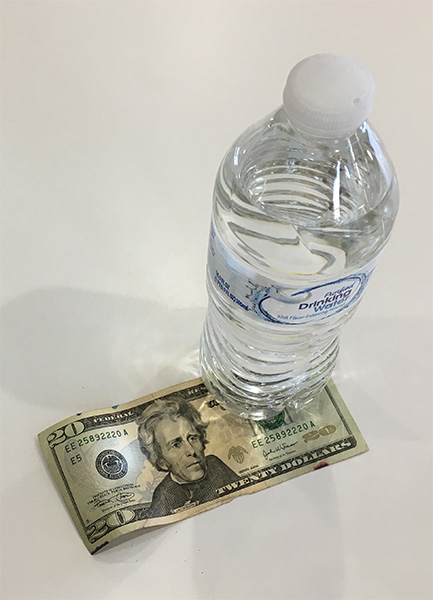 These are just some rough estimates of what five days on the road can cost. You can see that expenses add up fast. You can save money by sleeping in your vehicle and eating out of your kit instead of from groceries, restaurants, and fast food, but it is still expensive. Begin now to put aside some of your budget each month for cash for your disaster supply kit.
When adding cash to your disaster supply kit, divide the cash up in smaller amounts so if one is lost or stolen, you have others hidden in different places in your kit to draw from. Then when using your disaster supply kit during an emergency situation, if you have to make purchases, only carry a minimum amount of cash in your pockets, enough for your next few transactions. Be careful of prying eyes when pulling out cash. Don't make it known that you may have some resources that others might want.
Remember also that when storing cash in kits, you need to have plenty of small bills for change. Stores quickly run out of change if forced by necessity or disaster to do cash only transactions. If you only have a $20, that $1 water now costs $20. Have smaller bills.
12 Areas: Important Documents and Money
Having important documents updated, ready, and accessible and some cash on hand are necessary parts of being ready for emergencies.
---
Click Here
---