Community Emergency Response Teams (CERT)
CERT is primarily a training that teaches you basic disaster response skills to empower you to help yourself and those around you when disaster strikes and no professionals are coming to help. Once you take the Basic CERT Training then opportunities may be available to get further involved with a CERT program and various CERT team functions depending on your local CERT Program plans and your desires.
Get involved or at least get informed. Find a CERT program near you and get the training and get involved.
What You Learn in the Basic CERT Course
24-30 hours of classroom training
Unit 1: Disaster Preparedness
Unit 2: Fire Safety and Utility Controls
Unit 3-4: Disaster Medical Operations
Unit 5: Light Search and Rescue Operations and Victim Care
Unit 6: CERT Organization
Unit 7: Disaster Psychology
Unit 8: Terrorism and Hazardous Materials Safety
Unit 9: Course Review, Final Exam, and Disaster Simulation
CERT Training Core Messages and Values
Safety
Preparedness/Self-reliance
Leadership
Teamwork
Practice
Everyone has a place
Problem solving
Part of the solution not the problem
Doing the greatest good for the greatest number in the shortest amount of time
CERT Add-On Training Opportunities
These additional training opportunities are provided by your CERT instructors or partner programs.
Animal Response
Emergency Communications
Traffic and Crowd Management
Flood Response
Firefighter Rehab
Exercise Swaps
Leadership Success
Mass Care Functions: Sheltering, Feeding, POD Support, Family Reunification (Red Cross)
Volunteer and Donations Management (UServeUtah)
Common CERT Activities
If your CERT program has plans for involving individuals after Basic CERT Course completion, these may be some activities you could get involved with.
Program administration and training
Education outreach
Community event support
Flood response
Firefighter rehab
Disaster drills and exercises
Emergency communications
Traffic and crowd control
Animal response
Volunteer/donation management
Sheltering, feeding, POD support, family reunification
Medical, search and rescue, fire suppression, disaster psychology
Online Basic CERT Training
---
OnlineCERT.org
You can take the entire lecture portion of the Basic CERT training in an online learning environment, however to receive a certificate of full course completion you must also take the hands-on practical potion of the training with the CERT program near you.
For those already CERT trained this can act as a refresher tool.
For those not living near a CERT program, this tool is available to at least give you some knowledge rather than none at all.
For CERT Program Mangers and Instructors: Guidance on how to administrate the hands-on practical portion of this delivery format.
or Prospective Students: You can access the online course here, however know that your local program has no way of knowing if your taking the online course unless you tell them. Your local CERT program may ask you to register with them so they can keep you informed when the hand-on practical portion of the training is available.
APP for virtual reality CERT training simulations: Search "CERT Certification Preparatory" in your app store (Google Play, Apple) to use two virtual reality experiences on your mobile device. This does not require a VR head-set, but you can choose to use a VR head-set if desired. Dive into a virtual world where you can practice triaging and sizing up a scene. These experiences are embedded into the online CERT training, but even when not taking the online training you can always use this to refresh some skills.
Here are the same VR experiences compatible with your desk top computer or lap top: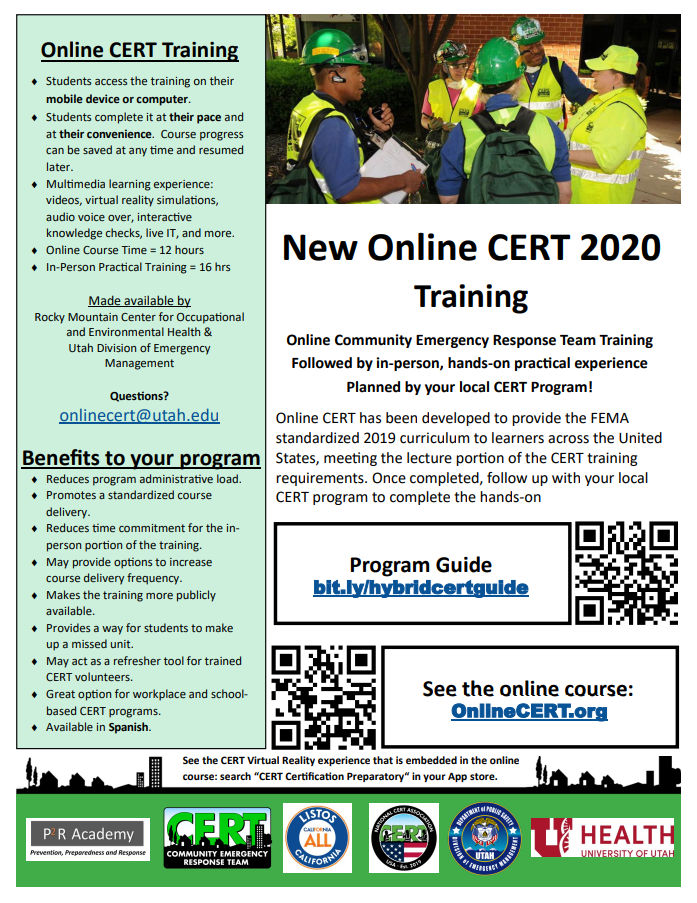 CERT is FEMA Resource Typed
CERT Section Chief
A volunteer who is responsible for a specific functional area within the CERT.
CERT Team Leader
A volunteer part of a CERT who directs team activities
CERT Volunteer
A volunteer who is a part of a CERT and trains in basic disaster response skills, such as fire safety, light search and rescue, team organization and disaster medical operations
General CERT Program Policy
---
A CERT Program can exist as a City or County CERT, Teen CERT, Campus CERT, or Workplace CERT. An official CERT program must:
Be registered online at https://www.ready.gov/cert, keep registry up to date.
Be approved by the local government and sponsored by a local government organization (Emergency Management, Fire, Police, Public Works, or Elected Official). Teen, Campus, or Workplace CERT programs must have an internal campus/workplace sponsor and must gain approval from the local government, and are strongly encouraged to work with the city or county CERT Program.
Be endorsed by the local Citizen Corps Council if the community has one.
Be approved by the State-level government.
Designate a program point of contact.
Conduct the CERT Basic Training Course and a CERT exercise or drill at least once a year
All CERT Basic Training must be approved by the official registered CERT Program Manager.
Must conduct the CERT Basic Training course in its entirety in accordance with the standardized CERT curriculum,
All CERT Basic Training should have a certified CERT Instructor in the room whose responsibility it is to make sure the standardized CERT curriculum is fully covered.
All program and training records are to be maintained at the local level by the registered CERT Program. Certificates of course completion are issued by the official sponsoring agency.
Teen, Campus, and Workplace CERT programs should limit their response activities to campus/workplace property. However such can form terms of formal agreement to work with the local government sponsor to support CERT activities elsewhere.
Disasterville for CERT
Disasterville is a whole community disaster table top activity, and is great tool for:
Program Recruitment
Sponsor By-In
Member Training
Preparedness Education
Basic CERT Course Teaching Tool
Check out this recorded National Disasterville presentation, and the Disasterville toolkit, as well as this short Disasterville video.
---
Disasterville Presentation
---
Disasterville Toolkit